We are on the home stretch!
We have one week left on this Whole30 journey.
Positives: We're feeling good and enjoying knowing that we're making good choices for our bodies.
But let's be real: We're bored with breakfast, and one of us (me) is totally ready for an occasional quick and convenient dinner (read: Take-out, dinner out, pizza, Chick-Fil-A... anything I'm not chopping, marinating, prepping, grilling, baking, etc.)
That being said, we for sure have a list of new favorite recipes.
So here's a look at what we ate last week:
Day 15
Date and Shallot Rosemary Chicken
recipe
here
from paleOMG
We loved this recipe so much in
week 1
that I made it for our entire family when we hosted Father's Day at our house. I will say that I marinate the chicken overnight (this time I marinated it over 3 nights) and I use more of the marinade than what the recipe calls for. I use 1/4 cup each of olive oil, apple cider vinegar, and balsamic vinegar as well as 2 cloves of minced garlic per pound of chicken. All of that goes in the marinating bag with the chicken and marinates overnight. The chicken has such good flavor this way.
Day 16
Crock-Pot Balsamic Pulled Pork
These ingredients are very similar to Day 15's recipe, but the added ingredients + pork tenderloin make it taste completely different. Plus it's a crockpot meal, so the closest thing there is to take-out on Whole30. You're welcome. ;)
Ingredients:
One, 2lb(ish) pork tenderloin, trimmed
1/4 cup each balsamic vinegar, apple cider vinegar, chicken stock, water
3 cloves of garlic, minced
1/2 tsp ground sage
1/2 tsp Himalayan Sea Salt
Directions:
Cook everything in the crock pot on low for 6-8 hours. Pull apart and cover with sauce left in the crock pot. Let sit for a few minutes in the sauce before serving. We served with roasted carrots, broccoli, and riced cauliflower (recipe
here
).
Day 17
Salmon with Avocado Salsa
(recipe
here
from The Cookie Rookie)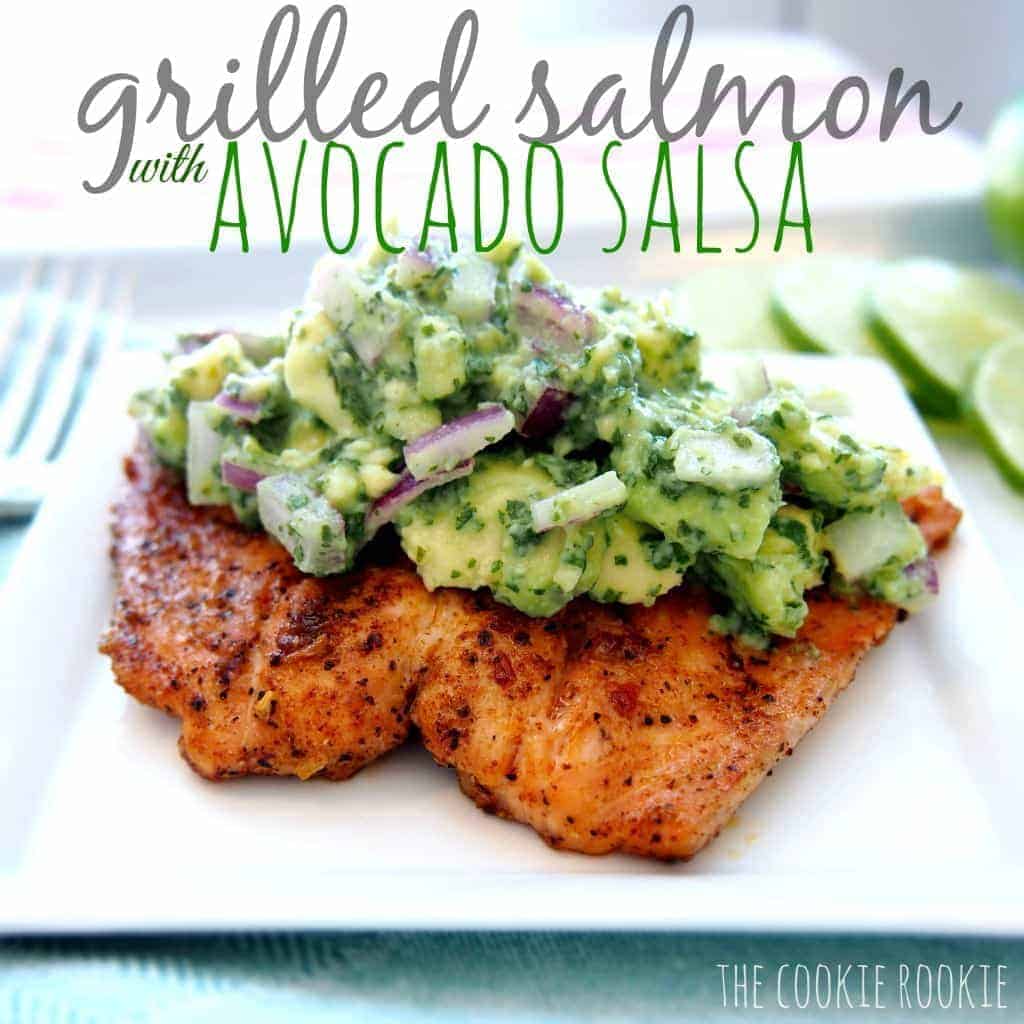 photo from
The Cookie Rookie
This is another recipe we had in week 1 and loved! The leftovers are great on salad the next day too. I add 1tsp of garlic powder to the rub and use the GoodFoods guacamole (we buy it at Costco) that's already made on top (guac image
here
). This recipe is SO easy and SO good!
Day 18
Meatloaf
recipe
here
from
Paleo Running Mama

photo from
Paleo Running Mama
This recipe was not my favorite but I am completely positive it was me, and not the recipe. We had my parents and sister and her kids over for our nephew's birthday and I made individual ones for everyone and totally overcooked them. Such a bummer since it was our nephew's birthday dinner and meatloaf is his favorite meal, and because I'm certain this recipe tastes great when you don't over cook it. ;) So give it a try anyway, k?!
Day 19
Taco Bowls
recipe here
Another
week 1
recipe repeat. Am I becoming uncreative on Whole30? You betcha. But when you find something that's good and normal tasting, it's just so hard to risk trying something new when you can't order pizza as a backup. #keepinitreal
Day 20
Buffalo Chicken Stuffed Sweet Potatoes
recipe
here
from
The Real Food Dieticians
First of all,
The Real Food Dieticians
is my new favorite food blog for healthy recipes. Love their recipes and love that anytime I tag them on
Instagram
, they take a second and respond. So in my book, they're great chefs and food bloggers, and they're nice. So check them out and for sure make this recipe because holy YUM.
Oh and besides this recipe involves the Crock-Pot (total Whole30 WIN), the leftovers are DELISH on top of a salad.
Yes. So good.
Day 21
Southwest Turkey Stuffed Peppers
recipe
here
from
The Real Food Dietitians
photo from
The Real Food Dieticians
So since I found
The Real Food Dieticians
, and since I was wanting to make stuffed peppers, I searched their site to see if they had a recipe. And sure enough they did. And funny enough it was the first recipe they ever shared on their blog! And awesome enough, I found a new trick for making stuffed peppers that is SO smart and easy. All that goodness can be found in their post
here
.
That wraps up week 3! To see the recipes we ate in weeks 1 and 2, click below:
Week 1 Recipes
Week 2 Recipes
The next time I write our recipes post we will be DONE! Hallelulah. Bring on the coffee creamer and wine.
Have a great week, friends!