Before I get to my goals for March, I have to say that life as a family of four has been pretty darn sweet so far. We really can't believe how smooth the transition has been and have said many times that if/when the tougher days come, we will remind ourselves of this sweet beginning.

I also want to thank you for your sweet words on Natalie's "welcome" post and her birth story! It really is fun to feel like I can share a bit of our lives on here and have documented memories for us to look back on one day.
Focus on being in the moment and appreciating exactly where we are.
I soaked up every ounce of time with my Big Guy in February.
We had brunch dates, lunch dates, Daniel Tiger on the couch dates, storytime dates, and even a new nightly routine of "Mommy in" the bathtub dates.
I looked at him differently last month than I had in the previous months, knowing that he was growing right before my very eyes and would soon seem even older when his little sister arrived.
And then she came, and watching him with her made my mama heart melt.
February was a great month.
(There's more to come on our transition to a family of four so stay tuned!) ;)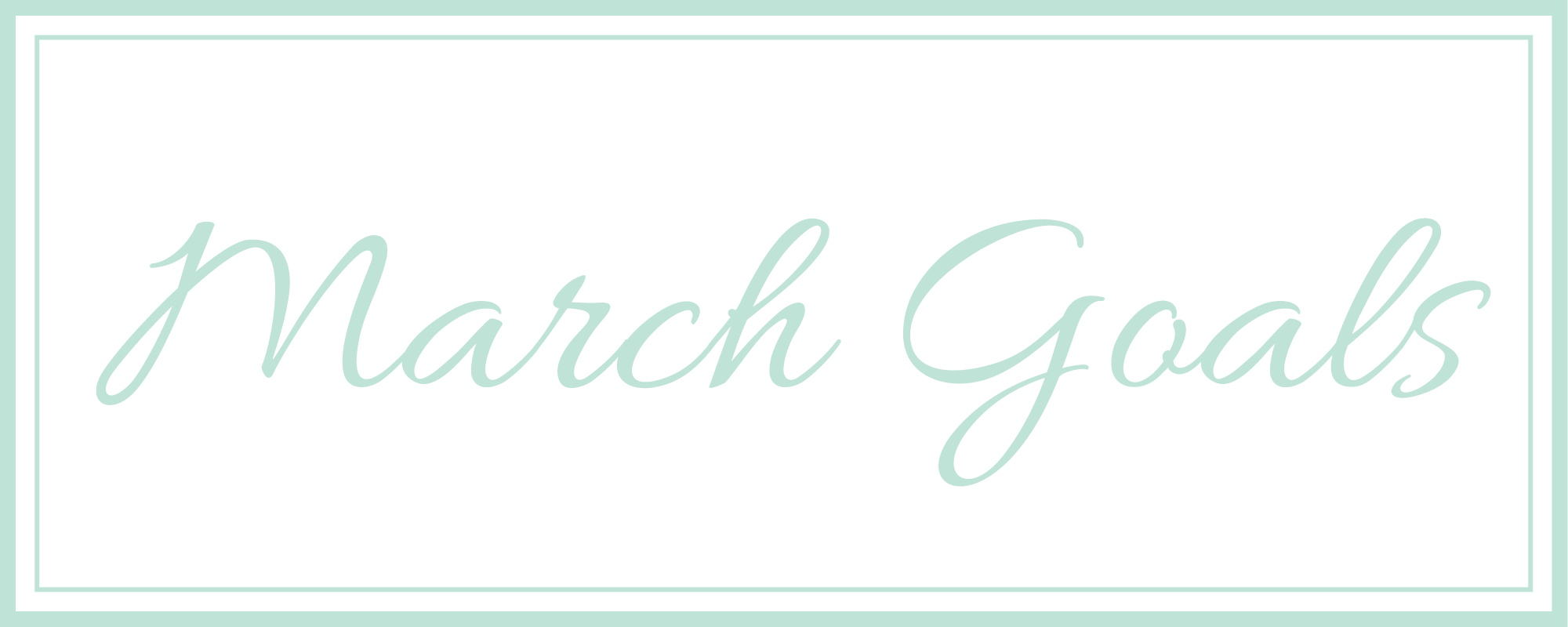 In March, I want to find a good balance between enjoying these early days of newborn and big brother life at home and getting out to enjoy the warmer weather and fun activities with friends. And because I tend to be a do-er and a go-er, this means I need to be intentional about keeping some days intentionally unplanned and enjoying the time at home with just my two babies.
Aside from that general goal, these are the other things I'd like to accomplish this month:
1.
Order Natalie's birth announcements.
Order frames for above the bed in her room and print 3- 8x10 pictures from her newborn photos to go inside.
Share pictures of her photo shoot and birth announcement.
I decided to take her pictures myself and am really happy with how they turned out! Once I have her announcements ready to send, I want to share the pictures from the shoot and the announcement with y'all!


Mail out thank you notes
We have been so blessed by our friends, family and neighbors with meals and welcome-home gifts. Not thinking about meal planning or cooking has been such a sweet gift! So this month, I want to make sure I take time to thank the people who have helped to make this transition a smooth one for us.


5.
Ease into exercise
I'm technically not cleared to exercise until the 6-week mark, but I'd like to ease back in with walking, some core work, and some arm/leg toning. I really don't plan to over due this- I know the 6 week guideline is there for a reason, but a little light-weight lifting and a few ab and leg exercises will feel good and make the transition to real workouts after the 6 week mark much easier.
So that's it for March!
I'll be back with family updates and a Favorite Finds "Mommy of a Newborn" post later this week!
Also, don't forget to check out E's goals for March
here
and join the linkup that she and Sarah are hosting each month!