This time last year, we were excitedly awaiting the arrival of sweet Ryan and counting down the days until we would get to meet him. My
#nelsendays2014 post
from the week before Ryan arrived gave a look at what we did as we waited to meet him.
And now, one year later, it's hard to believe we're getting ready to celebrate his first birthday! What an amazing year it's been. We can't imagine our lives without him!
Today I'm sharing my goals for July, but first, here's a look at how I did with my
1.
Order Ryan's Party Invitations
I am so excited about his invitations and party theme. I'm stuffing the envelopes and mailing them out today! Can't wait to celebrate that sweet boy.
2.
Shop for summer clothes
J. Crew Factory online
is having a huge sale right now- extra 50% off everything plus an extra 20% off that!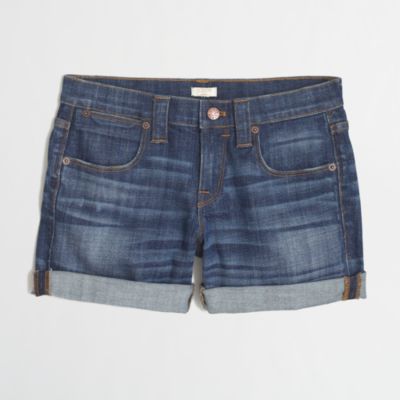 I ordered
these shorts
and a few other things from their sale and think I may be going back today to get just a few more items!
3.
Read Paper Towns
I loved
The Fault in Our Stars
and
Looking for Alaska
by John Green but this book was super disappointing. I'm really surprised it was made into a movie. The plot seemed far-fetched and honestly just not that interesting. It was a struggle to finish. Did anyone else read this? Am I crazy or did you feel the same way?!
4.
Sell items on eBay and Craigslist
I'm carrying this goal over to July. It's the strangest thing, but I've been having terrible luck with new eBay-ers winning my bids and not paying! Grrr. So this goal will stay on and hopefully I can get those few things sold and paid for. ;)
5.
Update Pictures in Frames
Dare I say I'm getting pretty good at the picture-updating thing?! I am loving the site
mpix.com
for printing pictures. The quality is great, they're super fast, and shipping is only $3.95. Plus they print 4x4 also. Love this site!
Okay, now on to my
1.

Sell

(and have someone pay)

for items on eBay

Third times a charm?! Let's hope!

2.

Read Beautiful Day by Elin Hilderbrand
I need a great read after last month's miss. So this month, I'm picking Elin Hilderbrand's
Beautiful Day.
A blogger I read- Shay Shull- recommended this book in her
June book review
. She ordered four more of Hilderbrand's books after finishing this one, so I'm thinking it will be a good one. ;) I'm also very intrigued by another book she recommend called
Bread and Wine.
It's not one that I would typically pick up and read, but she loved it so much, she said it may be her pick for best book of 2015, decided in June. SO, I figure it's worth a read!
3.
Update flower pots and plants
We have a few plants that need to be replaced and a few pots that need to be refreshed with summer flowers. I'd also love to pick up some new pots and stands for the patio.
4.
Buy Patio Furniture
I'm eyeing a set from Home Depot and waiting to see if it goes on sale after the 4th. We're looking for a set with 6 swivel chairs (most sets just come with 2). If you have a patio set you love that has six swivel or rocking chairs, I'd love to know where you found it!
5.
Garage Goodwill Run
We're storing some things in the garage right now that we are not using and I don't see us using any time in the near future, so I want to pile up those things and take them to Goodwill. I don't like to have things sitting around if they're not going to be put to good use! And I just love a good, clean, organized space. :)
That's it for my July goals! Are you guys working on anything big this month?!